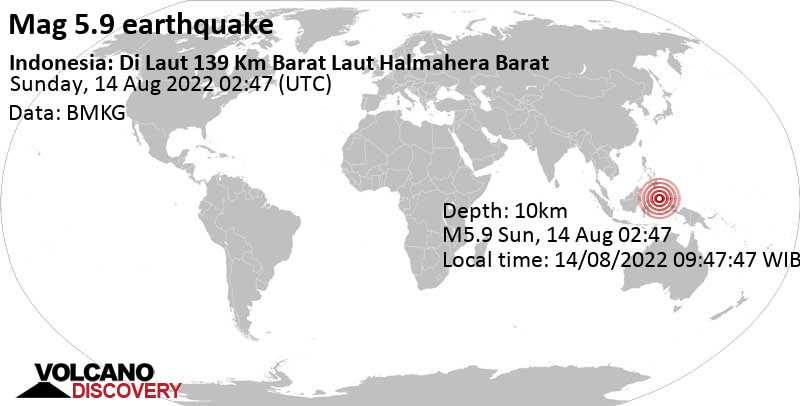 Strong 5.9 magnitude earthquake at 10 km depth
Aug 14 02:50 UTC: First report: VolcanoDiscovery after 3 minutes.
Aug 14 02:54: Now uses data updates from GFZ
… [show all] …Aug 14 02:56: Magnitude recalculated from 5.7 to 5.6. Location of the epicenter at 7.8 km (4.8 miles) toward S.
14 Aug 03:03: Magnitude recalculated from 5.6 to 6.0. Corrected location of epicenter by 4.6 km (2.8 mi) towards WSW.
Aug 14 03:07: Now use data updates from USGS
14 Aug 03:21: Now use data updates from BMKG
Updated Sunday 14 August 2022 03:06
Substantial 6.0 magnitude earthquake 141 km NE of Bitung, Indonesia
6.0 quake August 14 11:47 (GMT +9)
A magnitude 6.0 earthquake occurred on Sunday, August 14, 2022 at 11:47 a.m. local time near Bitung, North Sulawesi, Indonesia in the morning, according to the German Research Center for Geosciences (GFZ).
According to preliminary information, the quake was at a shallow depth of 10 km. Shallow earthquakes are felt more strongly than deeper ones because they are closer to the surface. The exact magnitude, epicenter and depth of the quake could be revised in the next few hours or minutes as seismologists review data and refine their calculations or when other authorities release their report.
Our monitoring service identified a second report from France's Réseau National de Surveillance Sismique (RéNaSS) which gave the quake a magnitude of 5.9. Other agencies reporting the same quake are the European-Mediterranean Seismological Center (EMSC) with a magnitude of 5.9 and the RaspberryShake Citizen Seismograph Network with a magnitude of 6.0.
Generally, tremors of this magnitude are recorded by more than one agency, and results can vary, with subsequent reports, arriving after the first, often being more accurate.
Based on the preliminary seismic data, the quake was probably felt by many people in the area of ​​the epicenter. It shouldn't have caused any significant damage aside from items falling off shelves, broken windows, etc.
In Bitung (population 137,400), 141 km from the epicenter, the earthquake is said to have been felt as a slight tremor.
VolcanoDiscovery will automatically update magnitude and depth as they change, and track as other important news about the quake becomes available. If you are in the area please send us your experience through our reporting mechanism, either online or via our mobile app. This will help us bring more first-hand updates to anyone around the world who is interested in learning more about this quake.
If you were or are still in the area during the earthquake Help others with your feedback and report it here.
Download the Volcanoes & Earthquakes app and get one of the fastest seismic alerts online:
Android | iOS
earthquake data
If you felt this tremor (or if you were near the epicenter),
Please share your experiences and send a short "I felt it" report!
Other users would love to hear about it!
If you did NOT feel the tremor
Even though you were in the area
please report
! Your contribution is valuable to earthquake science, seismic hazard analysis, and mitigation efforts. You can use your device location or the map to indicate where you were during the earthquake. Thanks very much!
Data for the same earthquake reported by different authorities
Info: The more agencies reporting on the same quake and publishing similar data, the more confidence you can have in the data. It usually takes up to a few hours to calculate earthquake parameters with near-optimal accuracy.
| | | | |
| --- | --- | --- | --- |
| Like. | depth | location | source |
| 5.9 | 10km | Indonesia: Tue Laut 139 km Barat Laut Halmahera Barat | BMKG |
| 5.7 | 31km | Indonesia: Northern Molucca Sea | raspberry shake |
| 5.7 | 32km | INDONESIA: MOLUKCA SEA | rescue service |
| 5.8 | 10km | Indonesia: Near Davao | RENASS |
| 5.7 | 40km | Indonesia: Northern Molucca Sea | GFZ |
| 5.7 | 31km | 158 km ENE of Laikit, Laikit II (Dimembe), Indonesia | USGS |
| 5.7 | 52km | Indonesia: Northern Molucca Sea | GeoAu |
| 5.7 | 35km | Indonesia [Sea] | INGV |
aftershocks
[More info]
Recorded aftershocks, newest first (2 tremors) (frequently updated so far)
Aug 14, 2022 3:17 am


6 hours ago

4.0

10km

Molucca Sea, 182 km east of Manado, North Sulawesi, Indonesia
More
Aug 14, 2022 3:05 am


6 hours ago

3.1

10km

Molucca Sea, 152 km east of Bitung, North Sulawesi, Indonesia
More
Previous earthquakes in the same area
Click here to search our database for previous earthquakes in the same area since 1900!